Home
Message Board
Racing News
Site and Hotel Info
Pics - Video
Rider Profiles
Youth Rider Profiles
Freestyle
Tour Schedule
General Tour Info
Events - Classes
Event Registration
Race Results
Retro Days
Team Competition
World Finals
Contact Info
Contingency
Sponsors

Rider Profile Section
Freestyle Division

Name: Michael Ratti

Age: 17


Where are you from: McDonough GA

IJSBA Member(years): 1st year

Racing Number for the 2004 Season: 180

How many years have you been Racing Watercraft: 1 Year (officially)

What Watercraft do you own (past/present): (2) 2002 Yamaha Super Jets modified enough to pass for stock class inspections (I freestyle and race with the same ski). (1) Kawasaki 400 (ghetto-fied ski)

What Classes do you Race: Novice (racing) and Amateur Freestyle

National/World Championship finishes (past/present): Erm yea well….1st place at the Lake Havasu World Finals….someday…

Regional finishes (past/present): 1st place in round 4 of the Georgia Championships

What has been your biggest thrill in Watercraft Racing: Meeting new riders, making new friends, seeing the sport grow, performing in front of crowds, and pulling off sick moves and tricks!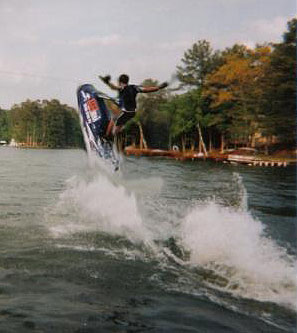 What has been your biggest disappointment in Racing: My first freestyle run was trashed because my ski had been setup for racing, so I had practically no idle. Every time I tried to perform a trick that involved sliding to the hood or turning around it would stall out!! It was horrible but I still managed to place well with aerial tricks :)

What are your Racing Goals: To be one of the many riders of tomorrow who will be responsible for the promoting of the sport, especially freestyle, win a world title, publish several books on racing and freestyle.

What past sports have you participated in: BMX, Karate, Track, Soccer

What do you like to do with your free time (Hobbies): Jetski Training, Riding my go-ped, Skating, Skateboarding, Wakeboarding, Surfing, Paintball, Cars, and hangin' out with my friends, drawing, graphic arts, making movies,

Sponsors/People you would like to thank: Well my only official sponsor as of right now would have to be my parents. Thanks mom and dad! Also I would like to especially thank, Shannon O'Neal, Harrison, Andrew Frechetti, and Jason Stoyer for all of their help and encouragement. I wouldn't have such a drive for the sport if it wasn't for them!!!
Wife or Girlfriend's Name: Single baby!! No time for chicks who cant keep up on the ski…but I'm sure I could work
something out.

Pets: 2 K-Mart Cats, Cleo and C.C.
1 Dog (rescued from crazy neighbors), Scooter, and a Gerbil monster

Team Name for 2004Season: well I don't have a team a.t.m. but if I did it would be called: The Surf Rat Krew

Email address (optional): Mraty770@yahoo.com