Rider Profile Section
Runabout Division

| | |
| --- | --- |
| | |
| | |
| | |
| | |
| | |
Name: Scott Farris
Age: 24
Where are you from: Garland, Texas
Racing Number for the 2003 Season: #10/ #11 / #200
How many years have you been Racing Watercraft: 3
What Watercraft do you own (past/present): Kawasaki & Yamaha (ski only)
What Classes do you Race: Expert Limited/Superstock and Pro-Am Superstock
National/World Championship finishes (past/present): Have qualified all years I have raced... Never have gone.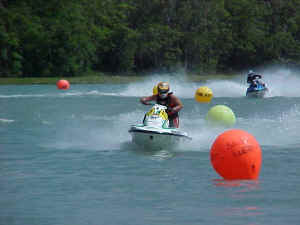 Regional finishes (past/present):
2001 Texas Championship Series
6th Overall Beginner Runabout Open
2002 Texas Championship Series
3rd Overall Novice 1200 Superstock
2002 World Finals
Slogan Contest Winner
2003 Texas Championship Series
7th Overall Expert 1200 Limited *
* Only Raced 1 Race entire Season
What has been your biggest thrill in Watercraft Racing: The bond that is formed with the racers in your class and the friends you make!
What has been your biggest disappointment in Racing: Qualifying for World Finals and not getting to attend.
What are your Racing Goals: Win a World Championship!
What past sports have you participated in: Speed Skating
What do you like to do with your free time (Hobbies): Spend time with my wife and kids, Sunday afternoon movies.
Sponsors/People you would like to thank: I would like to thank my wife Kandy, my Parents, my kids Zachary and Emily, Watercross of Texas, Kirt, Sue, Kelly, Casey, Ashley, Stevie and Tina. American Kawasaki, Corey Heiman/Liquid Force Racing, David Frisk/PWCRacer.com, Shane Yeagin, Wombat Racing , Deviant Konceptz , Farris Racing/www.STX-R1200R.com, Team Sport Racing/Marty and Lynne Roberts, Slippery, Jetskimechanic.com, AMS Oil, Spy, No Fear, The Chrome Dome, Skat-Trax, Dane McJunkin/JetSlalom-Sout.net and Factory Pipe and everyone else out there who has ever helped me out!
Wife or Girlfriend's Name: Kandeda Farris
Pets: None
Team Name for 2004 Season: Wombat Racing
Email address (optional): KawasakiSTXR@att.net