Rider Profile Section
Ski Division

Name: Carol Huhn
Age: 29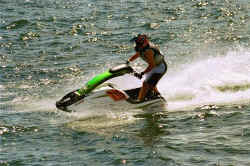 Where are you from: Mount Pleasant, MI
IJSBA Member(years): 2
Racing Number for the 2004 Season: 718
How many years have you been Racing Watercraft: 2
What Watercraft do you own (past/present):
'03 Kawasaki 800SX-R (present)
'96 Yamaha WaveRaider (past)
'01 Yamaha SuperJet (past)
What Classes do you Race:
Women's Novice Ski Limited class
Novice Ski Stock & Limited (sometimes)
National/World Championship finishes (past/present):
15th @ 2003 World Finals
Regional finishes (past/present):
4th for Novice Women's Ski Limited 2003
What has been your biggest thrill in Watercraft Racing:
I have to pick just one? Being one of only a few people in my class to not get lost on the course at World Finals, which got me into the main event.
What has been your biggest disappointment in Racing:
The LONG off-season.
What are your Racing Goals:
Compete for a top three overall regional finish in Novice Women's Ski Limited
Qualify and race at the 2004 World Finals
What past sports have you participated in:
Basketball, Track, and Cross-Country
What do you like to do with your free time (Hobbies):
Read, shoot hoops, make cookies & candy, play on the computer and my all-time favorite, SLEEP!
Sponsors/People you would like to thank: UMI Racing, HydroTurf
Husband's Name: Clint Huhn
Pets: Dog - Golden Retriever/Chow mix named Maggie Mae
Team Name for 2004 Season: Jet C Racing
Email address (optional): Carol.huhn@chartermi.net